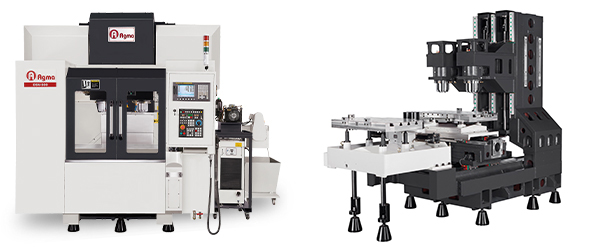 The DSV-500 twin-spindle double-ATC vertical machining center is a high-efficiency compounding machine developed for the processing of small-volume parts.
The rib reinforcement design of the casting structure enhances the rigidity, stability and precision of the machine.
The three-axis adopts the outer diameter 40mm C3 grade precision pretension ball screw, direct drive transmission, high precision and long using life.
The spindle adopts large size BBT40-outer diameter 150mm which increase the cutting efficiency.
XYZ three-axis use 35mm/45mm/45mm high rigidity roller linear guide ways configuration which provide the high shock resistance ad high quality processing surface.
The column adopts a large-span A-type design, which is more stable in combination with the bed and enhances the rigidity of the machine.
The Z-axis adopts a three linear guide way design, and the dual-spindle head is symmetrically locked to reduce cutting vibration.
Double-spindle double Z-axis motor configuration design, the parallelism of the two-axis tool tip can be fine-tuned by 0.001-±5mm.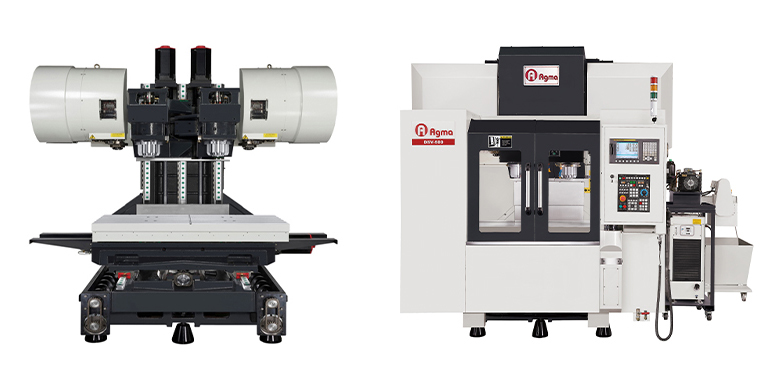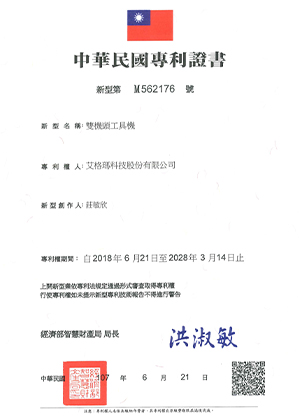 Republic of China Patent No. M562176