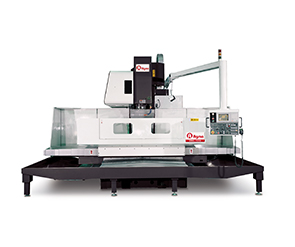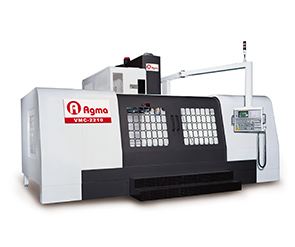 VMC-1910/VMC-2210

AGMA hardened-way machines are designed for rigidity and heavy-duty cutting. The machine structures are exclusively made to absorb and dampen cutting-induced vibrations; yet the machine's agility is better than most linear-way type machines on the market. In order to support our customers' needs, AGMA has built a support network specifically in special material cutting applications. This allows us to offer our clientele the best solution to their applications. Customer satisfaction is always AGMA's first priority.



High-Rigidity Structure
All three axes have a hardened box-way design . In addition, the spindle headstock, column, saddle, base, and table are all made of high-quality Meehanite cast iron.


Pulley-Driven Spindle
Three spindle alternatives of spindle are available. An enhanced headstock design allows the spindles to run up to 10,000 RPM. All spindles and pulley assemblies are dynamically balanced. A non-slip timing belt ensures the spindle will run smoothly, even at maximum speed.


Design of High Horse Power Spindle for Heavy-Duty Cutting
The gear-driven cartridge spindle is capable of reaching speeds of 6,000 RPM. There is a dramatic increase in spindle rigidity due to increased spindle bearing support. This along with a high horsepower spindle motor dramatically enhances the machine's cutting performance. In addition, each gear-driven spindle has a spindle oil cooler used to lower bearing temperature and prolong the spindle life.
X-Axis Chip Auger
The chip auger design provides optimal chip disposal and maximizes table cleanness.
Three Chip Auger Design
Instead of using a costly chip conveyor, the special three chip auger system efficiently removes metal chips which produced during machining.
Belt-Driven Spindle
The spindle headstock has increased rigidity due to the wide stance design of the z-axis ways and the long surface contact between the headstock and way bars.
Gear-Driven Spindle Transmission
The two-speed gear transmission allows full power utilization. All gears are made of Chrome Molybdenum alloy steel, heat treated, and precisely ground to ensure the spindle runs quietly and smoothly. Furthermore, the design of the floating tool release mechanism minimizes any pressure exerted on the spindle bearings.
Column with Honeycomb Shape Structure
The exclusive honeycomb shape structure design is utilized on the Column of VMC-2210. This design reinforces the headstock support and also enhances the stiffness of the structure. A high stiffness to weight ratio allows excellent dynamic performance during cutting.
Enhanced Base Design
The base of VMC-2210 has 6-hardened ways that allow greater stability. Therefore, the saddle and table are fully supported along the entire X and Y-axes travels.
Pressurized Oil Distributor
Lubricating oil is evenly distributed to the sliding surfaces of the machine by using Showa oil distributors along with hard-plumbed, low maintenance oil lines.
Hinged-Belt Chip Conveyor (Option)
This allows for rapid and efficient chip removal during machining in order to maintain a clean machine.
Double Stoppers Design
To prevent the deviation of servo motor housings and bearing housing, two stoppers are equipped for each axis to guarantee absolute axial alignment.
Coolant Thru The Spindle (C.T.S)(Option)
Spindle options include coolant through spindle with standard maximum pressure of 20 bar (280 psi). Higher-pressure ratings are also available.
Calibration with Laser Interferometer was Performed and Certified by PMC
All of our machines are calibrated according to the "VDI 3441 3∂" standard. Calibration is performed for full travel length for each axis. Each measurement is taken six times to ensure the most consistent and accurate readings.
Electrical Cabinet
All electrical components are in compliance with all safety rules and regulations.
All components inside the cabinets are clearly labeled and identified for ease of troubleshooting.


Fluorescent Light(Option)
This option is installed with the fully enclosed splash guard. The work lights are located on the upper right hand corner and left front side, providing a well-lit table area.
Metal Steps (Option)
Metal steps allow the operator to load and unload work pieces easily . This feature is designed for easy operator access into the machine.


Stiff Ballscrew Design for Greater Axial Support
All three axes use ISO Class C3 precision ground pre-loaded ballscrews with pretensioned supports on both ends to minimize backlash and compensate the thermal induced error.
Rigid Box Shape Double Deck Table
Unique AGMA designed double deck table. This unique design increases the load capacity of worktable for more variety applications, and also minimizes the deformation induced during heat treatment process.


Hand Scraping
To ensure consistent high quality , each slide way is hand-scraped. Each axis saddle has Turcite material on it and a special "*" design is used along with a "Z" pattern for efficient oil through. There is an excellent distribution of oil to all axes, so setting time after rapid movements is eliminated, and stick-slip during cutting is minimized.