BDO-2217-8228 BRIDGE TYPE DOUBLE COLUMN MACHINING CENTER (PULLEY DRIVEN/GEAR DRIVEN)
BDO-SERIES
High-Rigidity, High-Precision & High-Efficiency Design Concept


HIGH-RIGIDITY

The one-piece construction base with modular box design and optimum support maintains the machining accuracy.
The construction base with optimum rigidity support design is proved by ultimate analysis that can guarantee maximum loading on worktable and heavy-duty cutting.

HIGH-PRECISION
The spindle position is designed with symmetrical to center that provides stability of temperature level. Moreover, the short transmission system design reduces the heat conduction and extends the machine's life expectancy.
X-axis and Y-axis is adopted THK linear roller guide ways.

HIGH HORSEPOWER, HIGH ROTATIONAL SPEED, HIGH STABILITY
35-HP spindle motor, 6,000 RPM two-steps automatic change gear box.
Output torque of 642Nm(ZF gear box), offers capability of low-speed heavy cutting and high-speed precision cutting with extensive process range. (For demand of higher torque, please contact with our sales department).

AUTO TOOL CHANGE SYSTEM
The Max. cutter diameter is 125mm & the cutter length is 300mm.
Auto tool change time is 8 sec. (Tool to Tool)

PROCESS ABILITY
Y-axis travel: 1,600mm/2,100mm/2,600mm
Z-axis travel: 1,000mm (standard)
Z-axis travel: 800mm (option)
Width Of Table: 1,500mm/2,000mm/2,500mm

UNIQUE X AXIS TRANSMISSION SYSTEM
Advantage of direct transmission leads that the leadscrew can rotate with no influence from belt tention.
Direct transmission with speed-reduction mechanism is added to X-axis to increase the transmission torque, the thrust, and the capacity for workpiece weight.
Z-axis is adopted oil pressure balance system and building in pressure saver which supports smooth and stability for acting in Z-axis.
These three axis motors are adopted direct driven design that provides no back interstices as well as increases the machining efficiency and accuracy.
Double Column Vertical Machining Center
ULTIMATE ANALYSIS OF HEAD CONSTRUCTION


Our head construction has been assayed by ultimate analysis. The strengthened head construction design can reduce deformation risk during machining.
X AXIS TRANSMISSION WAY


Direct transmission provides the following advantages for the speed reduction mechanism:

The ball screw rotates with no influence from belt tenson.
The responses of the motor are directly sent to the ball screw.
The backlash is minimized.
The positioning accuracy is excellent.
The torque and the thrust forces are increased.

*Y-axis gantry adopts modular box-type girdle rip design with the high span linear guide ways supporting. The wide Y-axis design is suitable for big workpiece and chips collection.
Perfect Structure Design High Quality Guarantee
Y-axis is adopted modular box girdle construction design with the high span linear guide ways supporting. Therefore, the wide Y-axis is suitable for big items cutting and chips collection.
One-piece construction design is Amga's persist in design concept. High-stability body provides capability for higher accuracy machining. It is not only able to carry a heavy workpiece, but also to perform heavy cutting with the highest-level accuracy in industry.
One-piece construction design is Amga's persist in design concept. High-stability body provides capability for higher accuracy machining. It is not only able to carry a heavy workpiece, but also to perform heavy cutting with the highest-level accuracy in industry.

CHARACTERISTICS OF THERMAL-DEFORMATION COMPENSATION SYSTEM
The thermal deformation compensation system includes measurement of thermal deformation, thermal deformation math model developed based on the measured thermal deformation, and compensation card that executes the compensation process. It enhances machining accuracy, solves thermal deformation problem, and increases the cutting accuracy.

THERMAL DEFORMATION COMPENSATION MODEL IS THE ADVANTAGE FOR MOLD MAKING INDUSTRY
Spindle & structure thermal deformation compensation
Overcome the influence of ambient temperature.
Suitable for long machining hours with same accuracy for mold making.
The machine can work anytime, no need to warm up the machine in advance.
Different Types Of Spindles Are Available
GEAR- DRIVEN SPINDLE

The gear-driven spindle provides spindle speed of 4,000rpm and 6,000rpm with high output torque which is the best choice for frequent heavy-cutting operations.
ZF SPINDLE

ZF spindle has higher torgue than belt-driven spindle. ZF spindle provides higher rotational speed than gear driven does. ZF gear box has 1:4 speed reduction ratio mechanism. It enlarges output torque by 4 times. It offers an extra choice for users who needs high rotation speed and high torque for machining operation.
CROSS-BEAM BACK HOLDER DESIGN

The design of the back holder of cross-beams neatly aligns hydraulic unit, cooling machines, and spare parts, etc., and meets the requirement of CE regulations. This design offers two advantages:
1. More free spaces for operators
2. Easy to maintain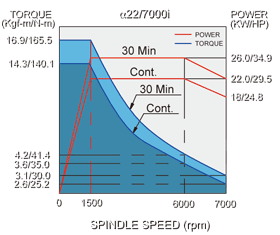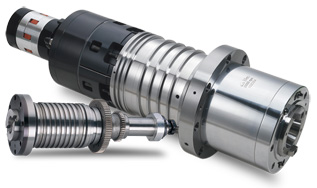 BT-50 SHORT END SPINDLE
Spindle speed:6,000rpm. BT-50 taper adopts short spindle end design with use of gear box. This is suitable for heavy cutting. Spindle torque could reach 572Nm, and 8,000rpm spindle is available.



BT-50 EXTENDED LONG-END SPINDLE (opt.)
The design of the extended long-end spindle is especially suitable for deep hole machining. BT-50 inside hole taper and 6,000rpm spindle are standard design. 8,000 rpm spindle is available. It is very suitable for large mold machining.



Spindle
The ultimate analysis illustrates the high rigidity construction design is optimum to restrain vibration and maintain stability of machining.
The united high-precision spindle is adopted the ball bearing support design that can well endure vibration of machining.
Spindle is adopted floating oil pressure tool clamp design.
Standard Accessories–Complete In Every Line
32 TOOLS ATC
OIL CIRCULATING COOLING SYSTEM FOR SPINDLE
X-AXIS TWIN CHIP SCREWS ON TABLE SIDES
EXCHANGE TOOL ARM
FOOTSWITCH FOR TOOL UNCLAMPING
AUTOMATIC LUBRICATION SYSTEM
GAS STORAGE TIN
HEAT EXCHANGER FOR ELECTRICAL CABINET
All Kinds Of Addition Heads(opt.)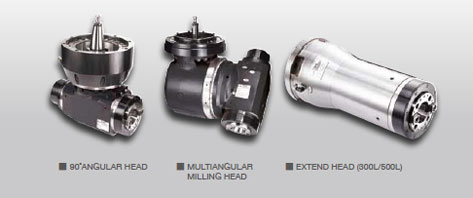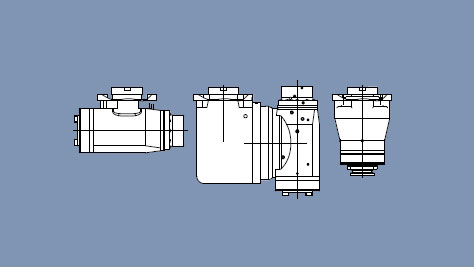 30˚ Angular
Head
90˚Angular
Head
Multiangular
Milling Head
Extend Head
(300l)
Max. Output Power kw(hp)
11(15)
15(20)
Spindle Taper
BT50(7/24)
Max. Rotation Speed rpm
3500
Tool Clamping Method
Manual Bolt/Auto Bolt
Index Method
Manual index/ Auto 5-Degree Index/1-Degree Index
No Index
Option Accessories
Auto 90 degree head warehuse beside ATC
Auto 90 degree head warehouse on table
Semi Auto 90 degree head warehouse by swivel arm
60 VERTICAL HORIZONTAL ATC.
STANDARD ACCESSORIES:
1. Belt Driven 6,000 RPM Spindle
2. Three Axis Crashprooof Mechanism
3. X-Axis Circulating Decoder Feedback
4. Twin Hydraulic Counter Weight Cylinder
5. Movable Manual Pulse Generator
6. Centralized Automatic Lubrication System
7. Enclosure Splash Gurd (Without Roof)
8. 32 Tools ATC
9. Flood Coolant System
10. Twin Chip Screw On Table Side
11. RS-232 Interface
12. Chain Type Chip Conveyor
13. Oil Skimmer
14. Quartz Work Lamp & Fluorescent Lamps
15. Program End Warm Lamp
16. Wash Gun & Pneumatic Interface
17. Rigid Tapping
18. Movable Manual Pulse Generator
19. Tool Box (Include One Set Of Tools For Adjustment)
20. Footswitch For Tool Unclamping
21. Foundation Bolts & Adjustable Bolts
22. Maintenance & Operation Manual
23. Controller Fanuc 18iMB


OPTIONAL ACCESSORIES:
1. Gear Driven 6,000 RPM Spindle
2. Belt Driven 8,000 RPM Spindle
3. Enclosure Splash Guard (With Roof)
4. 40 Tools ATC
5. 60 Tools ATC
6. Controller Fanuc OiM
7. 4th Axis Preparation
8. 90° Angular Head
9. Multiangular Milling Head
10.Extend Head- 300L
11.Extend Head- 500L
12.Head Warehouse
13.Linear Scale Feedback System For X,Y,Z Axes
14.Auto Tool Length Measurement
15.Auto Work Piece Measurement
16.Coolant Through Spindle A Type(20/70 bars - Closed Hole)
17.Coolant Through Tool
18.Z Axis Travel 800mm