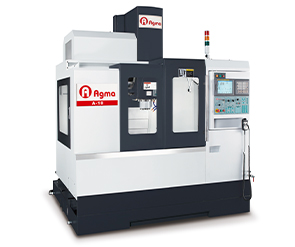 A-10
High-Rigidity Structure Design
Adopt Meehanite cast iron (General Industrial Standard:FC20~25) and heat balance design.Since Meehanite cast iron provides larger damping and smaller deformation,our machines are more durable and with extraordinary performance to cope with long term manufacturing.



Synchronously adopt the European & Japanese design
Wide-span rigid column
Japan-made NSK extra-large 35mm precise roller- rail linear guide way (option)
Adopt high-end direct motors and high rigidity couplings in three axes
High quality full-length enclosed splash guard, elegant appearance, wellexecuted, and in good taste

Extra-large Z-axis motor
 7.0KW (no counter balance design)



High reliable and high accuracy ballscrew design
 ø40mm high class double nut provides strong rigidity, high torque, better accuracy, long-life,and effectively heat extension control.



Extra wide door design
 The width of door reaches 1160mm for conveniently loading and unloading the fixture and workpiece.



Stable air supply equipment
 The gas storage barrel assists to acquire steady air source to increase equipment utility rate.
Renishaw Ballbar System
 Carry out a three dimension circular test and optimal adjustment.
Ballbar Test Figure
Each machine goes through telescoping ball-bar tests to check contouring accuracy and uncover any geometric errors. This testing ensures the machine structure is both square and parallel.
Calibration with Laser Interferometer was Performed and Certified by PMC
Agma authorizes PMC to conduct 100% inspection to full travel length of three axes. Standard VDI 3441 3δis employed to ensure the machine accuracy and righteous of the inspection. For each axis, inspection along full axial travel length backwards and forwards for 6 times is conducted.
| | |
| --- | --- |
| | Dynamic characteristics of the high-speed spindle verify Figure |
Cutting Capability

Workpiece Material:A6061 T6
Spindle Speed:12,000rpm
Cutting Feedrate:10,000mm/min.
Cutter:ø12 × 3Flutes End Mill for Aluminum
Depth of cut:12 mm
Width of cut:1.8 mm
Cutting Capability

Workpiece Material:P20
Spindle Speed:7,000rpm
Cutting Feedrate:6,500mm/min.
Cutter:ø12 × 4Flutes End mill
Depth of cut:18 mm
Width of cut:0.8 mm

Fanuc Spindle Torque Drawing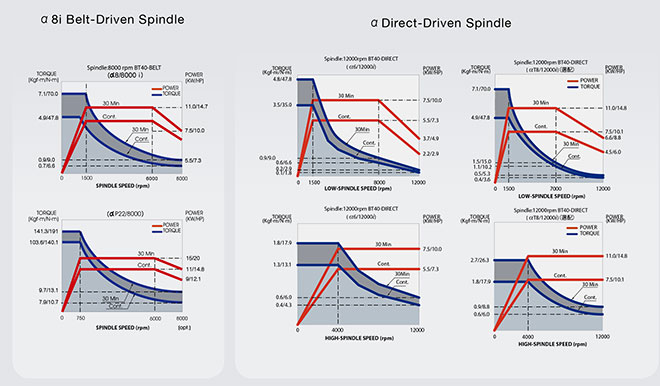 Standard and special accessories
Hinge Type Chip Conveyor
X/Y/Z-Axis Optical Linear Scale (Special Accessories)
Spindle ring sprinkler
Thin-film panel



Fluorescent Light &
 Quartz Work Light
The fluorescent light is installed with the fully enclosed splash guard and it is located on the left hand corner, and the quartz work light is installed on the right hand upper corner to provide a well-lit table area.

Oil Circulating Coolant System for Spindle
Y-Axis Screw Type Chip Augers (2 pcs) (A-10 only)
Extra-large Z axis motor 7.0KW (A-10 only)
Chassis Chip flushing
Oil Skimmer (Special Accessories)
Precision Ball-Rail or Roller Rail (option) Linear Guideways and C3 Class Ball Screws
 for Three Axes
Linear Guide ways are used on all three axes. Because of their high rigidity,low noise, and low friction, this helped to chieve high-speed rapid movement and excellent circular accuracy.Double nut C3 class precision ballscrews are used on all three axes.Along with pretension double nut and supports to minimize the backlash and to compensate for error caused by temperature differences in order to maintain positioning accuracy.