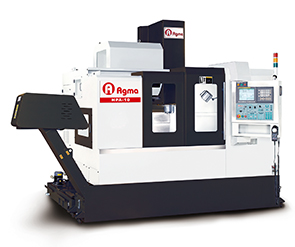 Rapidest feedrate30,000 mm / min
among Taiwanese machines


HPA-10
High Rigidity Structure Design



Synchronously adopt the European & Japanese design
Wide-span rigid column
Adopt Japan-made NSK extra-large 45mm precise roller-type linear guide way
X/Y/Z axis adopt high specification direct driven motor and high rigid coupling
High quality fully enclosed splash guard. Elegant appearance, well-executed and in good taste.

Extra-large X/Y axis motor
 4.0/7.0KW



Extra-large Z axis motor
 7.0KW (no counter balance design)



High reliable and high accuracy ballscrew design
 ø40mm high class double nut provides strong rigidity, high torque, better accuracy, long-life, and effectively heat
 extension control.
 


Extra Wide door design
 The width of door reaches 1160mm for conveniently loading and unloading the fixture and workpiece.



Stable air supply equipment
 The gas storage barrel assists to acquire steady air source to increase equipment utility rate.



PMC Picture
 Agma authorizes PMC to conduct 100% inspection to full travel length of three axes.
 Standard VDI 3441 3δis employed to ensure the machine accuracy and righteous of the
 inspection. For each axis, inspection along full axial travel length backwards and forwards
 for 6 times is conducted.



Cutting Capability


Workpiece Material:A6061 T6
Spindle Speed:15,000rpm
Cutting Feedrate:30,000mm/min.
Cutter:ø12 × 3Flutes End Mill for Aluminum
Depth of cut:12 mm
Width of cut:1.8 mm






Workpiece Material:Ti6Al4V
Spindle Speed:3,000rpm
Cutting Feedrate:2,100mm/min.
Cutter:ø12 × 4Flutes End Mill
Depth of cut:18 mm
Width of cut: 0.857 mm






Workpiece Material:P20
Spindle Speed:8,000rpm
Cutting Feedrate:10,000mm/min.
Cutter:ø12 × 4Flutes End mill
Depth of cut:24 mm
Width of cut:0.8 mm






Workpiece Material:SUS420
Spindle Speed:4,800rpm
Cutting Feedrate:3,200mm/min.
Cutter:ø12 × 4Flutes End Mill
Depth of cut:12 mm
Width of cut:1.8 mm